Official Site Of The Oceanfront Historic Ketchum Cottages
On a bluff overlooking the beach at Tidnish Dock, near Amherst, Nova Scotia, the two Ketchum Cottages offer commanding ocean views.  Beach access is easy and convenient.  It's a couple of moments along a wooded trail through a Nova Scotia beach park dedicated by the province to Henry Ketchum's endeavour to build a "Ship's Railway" in the early 1880s.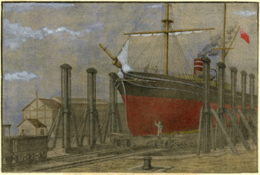 These two historic waterfront cottages are two buildings that were used by Henry Ketchum during the Northumberland terminus construction phase of his Chignecto Marine Transport Railway (CMTR) project.  One is called the Ketchum Cottage after Henry Ketchum who never quite achieved his dream of completing the Ship's Railway. The other is the CMTR Cottage, named for the project itself.  The CMTR project was intended to haul tall ships 17 miles by rail between the Bay of Fundy and the Northumberland Strait. The project was about 80% complete when it was abandoned. We are indeed fortunate to have these two historic buildings which are among the few remaining remnants of this ambitious 19th century project.
.
These cottages are Managed by the Amherst Shore Country Inn
The Inn Cottage is also period in construction.  It is located on the water at the Amherst Shore County Inn.
While they are generally rented by the week, 3-day+  rates are also available.
There is an availability calendar and a secure reservation request form for your convenience on the web site.
Or,…  just call Mary at 1 800 661-2724 for more information or to make a reservation.